Microsoft Prepares to End Support for Windows 7 in early 2020
Learn Why this Deadline is Crucial for your Business
Microsoft is ending support for Windows 7 and Windows Server 2008 (plus 2008 R2) on January 14, 2020. This means after that date, Microsoft will no longer provide patches and security updates to this software, making it more vulnerable to cyberattacks, security breaches, and ransomware/malware attacks. You might remember similar warnings when Microsoft ended support for Windows XP. However, when that change occurred, XP was only used by 40% of the world's computers. Today, it is estimated that nearly 70% of the computers in use are running Windows 7. What does this mean for you? Number one/ you do need to act and number two/ you need to act now!


>>> Click here for detailed help on building the migration plan for your organization.


eNet Healthcare News Desk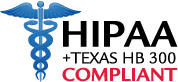 Healthcare Industry Found Worst at Protecting Consumer Data
A new study by the not-for-profit Internet Society's Online Trust Alliance has found that the healthcare industry ranked the lowest – only 57% for protecting consumer data. According to the study, healthcare companies included pharmacies, health insurers, hospital systems and genetic-testing businesses. The U.S. government – by comparison, scored the highest (91%) for protecting data.
For the study, the Online Trust Alliance evaluated the websites based on how well they protected e-mail, whether or not they encrypt sessions with users and what is posted in privacy statements. Need help in protecting your customer data? Call us today at 281-403-9561 to discuss best practices or visit our healthcare page.
Hot New Products
Galaxy Fold
That's right, this is the Hot New Products column promoting a foldable phone. It may be hard to believe, but yes, you can buy a foldable phone today. You will need to spend nearly $2,000, and you will probably need to wait in some lines, but it can be done. Pre-orders for the Galaxy Fold are full, but there may be some additional phones available on April 26, the official release date. Want to learn more and discover what the phone can do in open vs closed states? Read full review here.