Three IT Investments Small Businesses Should Never Skimp On
There's no denying that the Internet age has empowered companies of all sizes to do incredible things and that technology is forever transforming the way we do business. Today's savvy businesses are intertwined to an unprecedented extent with the technology they use. But there's a problem that goes along with this increased dependence. Despite the inextricable relationship today's companies have with technology, the vast majority of them — small businesses in particular — are neglecting key aspects of their technology infrastructure. They're skimping where they shouldn't, cutting corners wherever possible and, as a result, leaving themselves open to a huge variety of potential disasters.
>>> Click here to discover the three most crucial IT investments your company should be making.


eNet Healthcare News Desk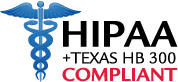 Smart Kids Thermometer Allows Digital Health Data to Be Stolen by Hackers
A smart and portable arm thermometer for babies and small children, called Ivy Health Kids Thermometer, did not protect the sensitive digital health data of its patients and allowed it to be breached by hackers, says a security firm. In the healthcare industry, no network is too large or too small to be a target for hackers. When was the last time you had an assessment of the safety of your computer network? Call us today at 281-403-9561 to schedule one or visit our healthcare page.
News Desk
Google Sued for Tracking Users Location
Google is now facing a lawsuit for allegedly collecting location data even when users turned off location services. The lawsuit comes just days after the Associated Press (AP) reported on Google's data collection practices. The AP investigation revealed that many Google services on both Android and iOS devices will store a user's location data even though the user has selected a privacy setting that should prevent Google from doing so.
Security Update
Many Instagram Accounts Have Been Hacked
Mashable has reported that an increasing number of Instagram users are finding themselves locked out of their own accounts. Login attempts are not successful and then when users try to reset their password, they discover their emails have been changed to emails with .ru domains. No one has claimed credit for this hack, and it is unknown if the source is from Russia or just someone pretending to be from that country. User names, profile images, passwords, email addresses and connected Facebook accounts are being changed, according to victims. Thus far, many of the compromised accounts display a Disney or Pixar character instead of the original profile picture.