Are You Tired of Being Buried under Hundreds of Emails Each Day?
... We Can Show You the Way Out in No Time.
You leave the office at 5 p.m. or maybe even 8 p.m., and your email inbox is fairly in order. When you arrive the next morning at 6 a.m. or even 9 a.m., your inbox has already exploded and it may take hours to find your most crucial email messages. It doesn't have to be so hard. We can help you keep your email inbox more manageable with some simple tricks.
>>> Click here to find out how to make your email inbox more manageable and organized.


eNet Healthcare News Desk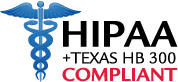 Ransomware Now a Risk for Medical Devices
Not that long ago, healthcare practices needed to only safeguard their work stations and laptops against ransomware threats. Now, with the proliferation of Internet-ready medical devices, a growing number of items must be added to the 'secured' list for any medical or dental practice. The new increased risk is because medical devices now run on standard operating systems (like Windows), making them easier to patch and upgrade, but also more vulnerable to cyberattacks. The first of these attacks took place in 2017, on an appliance that enhances the quality of MRI images. During this attack, the WannaCry ransomware screen popped up on the LCD readouts, demanding a ransom payment for continued use of the device. How secure are your medical devices? Please call us today at 281-403-9561 to discuss this and be sure to visit our healthcare page.
Software Update
Have You Updated to iOS 12.4 Yet?

If you have not yet updated your Apple iOS to 12.4, you might want to do so rather quickly. This release provided much needed protection against flaws that researchers describe as "interactionless" because they can be triggered without the need for a user to interact with their device beyond viewing a message. According to the researchers' findings, four of these flaws could actually lead to the "execution of malicious code on a remote iOS device, with no user interaction needed."
Security Update
Ransomware Attack Cripples Computer Systems of Local Government Offices in Texas
This past week, a coordinated ransomware attack targeted systems operated by more than 20 entities here in Texas. "At this time, the evidence gathered indicates the attacks came from one single threat actor," the Texas Department of Information Resources said in a statement Saturday. "Investigations into the origin of this attack are ongoing; however, response and recovery are the priority at this time."

Texas is not the only state to be affected. The US Conference of Mayors reported that there have been 22 ransomware attacks on city, county and state governments so far this year. Some of the larger cyberattacks were in New York and Florida.