Ready to Make 2019 Your Most Secure Year Yet?
If you are looking to improve your business' network security, a great first step is password management.
It seems that every time we report on another network security breach — from a global corporation or a small local business — a key factor in the hack was a weak password. Just days ago, a massive security breach called Collection #1 exposed a record 773 million email addresses and 21,222,975 unique passwords.

It seems impossible after so much media coverage, but there are still passwords out there as easy to crack as 12345 or 111111. In fact, the top ten worse passwords still being used in 2018 are 123456, password, 123456789, 12345678, 12345, 111111, 1234567, sunshine, qwerty, and iloveyou.

Thankfully, most websites and apps are making stronger passwords a requirement, leading people to resort to combinations like 8&XgC6g+U@I0d$56. While these are extremely strong, they are also impossible to remember and difficult to enter using smart phone. So where is the middle ground? How do we find a balance between strong password security and ease of use? It's simple with a password manager.
>>> Click here to read why your business needs a password management strategy to stay secure in 2019.


eNet Healthcare News Desk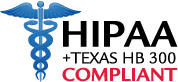 Another Massive Data Breach Due to Lack of Basic Security
According to a recent investigative report, Singapore's personal data breach of 1.5 million SingHealth patients (including Prime Minister Lee Hsien Loong) last year, was caused by bad system management, a lack of employee training, and other major flaws. This should serve as yet another wakeup call to all health organizations which are still failing to educate users, apply security patches, and take other common and even basic security measures. Call us today at 281-403-9561 to discuss these security measures or visit our healthcare page.
News Desk
Shutdown Has Led to Expired SSL Certificates
A web security company has recently discovered dozens of US government websites operating with expired SSL (security) certificates. This is a dangerous situation that could put all website visitors at risk. Without current SSL certificates, hackers could sneak in and capture any information you pass on to those sites, such as personally identifiable information and credit card numbers. Some of the affected websites are the Department of Justice and NASA's site, according to the security company.
Hot New Products
Laptops - A Refresher Course
We were going to start off the year by making some laptop recommendations, but our first question was — which type of laptop. Gone are the days when there were two simple choices — a personal computer or a laptop — or even a PC, a laptop or a tablet. Today, there are at least six laptop classifications. So before you buy, you might want to decide which type of laptop you need.

General laptops: You can probably find a very affordable option in the general category, where devices focus more on practicality than style, portability or power. Suitable options for business laptops start around $700 and up.

Ultrabooks: If you need the portability of a laptop but don't want to feel like you are carrying one, an ultrabook might be right for you. These are thin and light notebooks with advanced storage and high resolution displays. The small size paired with long battery life doesn't come cheap. Many ultrabook models range from $700 to $2,000.

2-in-1 laptops: These are laptops that can also serve as a tablet. They are outfitted with either detachable keyboards or 360-degree rotating hinges, making them extremely versatile and a great way to experience Windows 10 (or Chrome OS) on a touchscreen. These models can start around $600 and go up from there.

Laptop-tablet hybrids: These are similar to the 2-in-1 laptops, but are designed with a tablet-first approach. Some models, for instance require you to buy the keyboard separately, though they often come with a stylus included. As with other categories, they can range from budget to premium in price.

Chromebooks: An affordable laptop option is a Chromebook running Chrome OS instead of Windows or macOS. These devices favor less intensive users and cloud over local storage. Chromebooks can be found for around $300.

Gaming laptops: They're called gaming laptops, but they could as easily be called power laptops. If your programs are very video card intensive, this is the category for you. As you probably are aware, they are pricier than a general laptop. They may start at $950 but can easily reach $3,000 with advanced processors, video cards and hard drives.


Security Update
Hackers Latest Target? - DNS Infrastructure
Hackers this year have a new target. They are now focusing on the Domain Name System (DNS) infrastructure with a global hijacking campaign seen in all sectors, according to a new alert from the Department of Homeland Security National Cybersecurity and Communications Integration Center.
The cybercriminals are gaining access to DNS accounts using compromised credentials (ie. weak passwords) to modify the location where the victim organization's domain name resources resolve. This means when someone types in your website's URL, they will be directed to the hacker's own website (or version of your website) through which they can spread malware and/or capture sensitive information from your visitors.