Microsoft's Support for Windows 7 Ends This Week
... Have you updated your systems yet?
We've announced it in our newsletters and special alerts, and it's been covered in online articles for months. The end is finally here. As of January 14, 2020, Microsoft is no longer supporting Windows 7, Windows Server 2008 and 2008 R2. While it's not likely that your network will suffer a breach immediately, it can certainly happen — and sooner than you might think. We are urging our clients, colleagues and associates to consider updating their affected systems at once. Please don't weigh the time and cost of updating against the remote chance of nothing happening. That's a risk no business should be willing to take.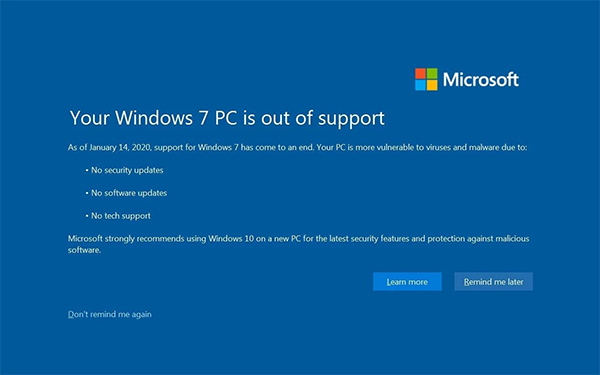 Photo credit: A Windows 7 notification from Microsoft
>>> Click here to find out what can happen if you don't update your Windows 7 systems.


eNet Healthcare News Desk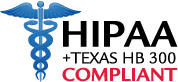 Hackers Now Demanding Ransom From Patients Not Physicians
In a new and slightly disturbing twist, a ransomware attacker is demanding ransom payments from patients of a Florida clinic to prevent the release of their personal information which was obtained through a breach of the clinic's server. It's estimated that the hackers stole the personally identifiable information from about 3,500 former and current patients. According to the investigation, several patients received individual extortion attempts "threatening the public release of their photos and personal information unless unspecified ransom demands are negotiated and met." We assume you would not wish this upon your patients, so please call us today at 281-403-9561 to discuss and be sure to visit our healthcare page.
News Desk
What's New at CES?
Last year, at CES 2019 (Consumer Electronics Show), prototypes for foldable phones were on display. One year later, it only makes sense that the tech community has moved on to foldable computers. What's making all this possible now is coming from Intel's "Horseshoe Bend" design which was unveiled at CES. Horseshoe Bend is basically a 17-inch tablet or an all-in-one computer (if you use a kickstand and attach a keyboard and mouse) that can fold in half to become a 12.5-inch laptop with a touchscreen on one half and a touch keyboard and touchpad on the other. Lenovo displayed their ThinkPad X1 Fold and Dell brought along two foldables as well.

Security Update
Microsoft Warns that the BlueKeep RDP Flaw Attacks Will Increase and Users Need to Patch Systems
Cybersecurity researchers have found hackers are still attacking the BlueKeep Remote Desktop Protocol (RDP) flaw that was reported in May of last year. However, Microsoft is warning users that more destructive cyberattacks are likely, and users need to patch the flaw immediately. The threat is so severe that Microsoft issued a rare patch for a number of legacy operating systems that are no longer supported. If a system is exploited, the vulnerability would allow a hacker to remotely start the protocol and use it to spread malware. Despite an alert from the National Security Agency, security experts showing how dangerous this is, and repeat warnings from Microsoft, hundreds of thousands of devices remain unpatched.