Take back control of your browser - delete those toolbars

Is your browser toolbar area looking a bit crowded these days? Sometimes it can seem like for every one program we download, we end up with two or three new browser toolbars. Not only do these toolbars take up space in your browsing window, but they also consume precious operating system memory.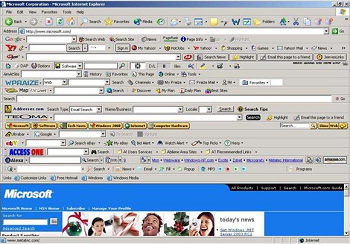 In addition, some toolbars can change your home page and your search engine without your permission or awareness. They can track your browsing activities and online searches and even display annoying ads and manipulate search results.

"Toolbars are not technically a virus, but they do exhibit plenty of malicious traits, such as rootkit capabilities to hook deep into the operating system, browser hijacking, and in general just interfering with the user experience," according to MalwareTips. Thus, they are known by the term "PUP," or potentially unwanted program.
To take control of your browsing experience, follow these steps to uninstall the toolbars.
Click the Start button, then select Control Panel, and click on Uninstall a program.

When the Add/Remove Programs or the Uninstall a Program screen is displayed, scroll through the list of currently installed programs and uninstall the toolbars in question. The most common programs installed on users computers are: BitGuard, Delta Toolbar, DefaultTab, Search Protect by Conduit, Ask toolbar, Babylon Toolbar, Browser Protect, WebCake, Mixi.DJ toolbar and many others.
You may also want to remove them from your browser.
Open Internet Explorer, click on the gear icon in the upper right part of your browser, then click again on Internet Options. (Firefox and Chrome will have similar methods to get to Settings.)
In the Internet Options dialog box, click on the Advanced tab, then click on the Reset button.
In the Reset Internet Explorer settings section, select the Delete personal settings check box, then click on Reset button.
You may need to restart the browser and/or your computer after this change.
Image Source geek.com / Article Source malwaretips.com

>>SOFTWARE LIBRARY<<

What's new in iOS 8.0
While reports stream in that Apple is going big with its next iPhone model, you will need to wait until September to see that. iOS 8.0 should be released around the same time and also promises some big changes.


App developers will now have access to Apple's fingerprint scanner
Users can capture extended moments with time-lapse camera mode
SMS and phone calls can now appear on iPads and Macs
Handoff and WiFi hotspot help improve workflow and productivity
Add and drop people from group messages - and share your location
Respond easier to more interactive notifications
Quicktype offers features similar to SwiftKey and Swype
iCloud Drive stores more document types
iOS 8 family sharing - all purchases with same credit card can be shared among six people
iPhone can now 'Send Last Location' before battery dies
Want even more iOS 8.0 details? Read article source.


>>HOT NEW PRODUCTS<<

Microsoft Surface Pro 3
Microsoft went big with the latest Surface and according to the reviews, that design decision is paying off big. The display is now 12" compared to 10.6" in previous models. The keyboard and touchpad are also bigger and much improved over older models.

>>SERVICE REMINDER<<

It's not too late to replace those XP devices...
Remember, even though support for Windows XP has ended, it's still not too late to take action. We are working with clients every week who still have XP on some device. Call us today at 281-403-9561.




>>ENET NEWS DESK<<


Are you considering a move into a new office space, or do you know someone who is? eNet Systems offers turnkey IT Infrastructure Services.

Visit our website or call 281-403-9561 to learn more.



---
>>ENET HEALTH NEWS DESK<<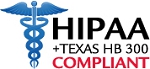 We continue to uncover security risk assessments myths.

Myth #3:
"A checklist will suffice for the risk analysis requirement."

False. A checklist might be helpful, but it is not as complete as a security risk analysis.

Call

281-403-9561 to schedule yours today.



---

>>SECURITY UPDATE <<

No more NSA backdoor surveillance
The US House of Representatives recently voted to stop funding for programs engineering security vulnerabilities in US-made tech products, commonly known as backdoors. As reported on CNET, the amendment is in response to alleged activity revealed last year which reported that the US agency intercepts deliveries of electronic equipment to plant spyware to gain remote access to systems once they are installed. According to the report, the NSA has planted backdoors to access computers, hard drives, routers, and other devices from companies such as Cisco, Dell, Western Digital, Seagate, Maxtor, Samsung and Huawei. Read more.

Mobile malware is on the rise
Anti-virus company McAfee has released a statement that warns "against downloading unofficial apps and purchasing from third-party app stores, which have become a haven for shoddily created apps. Consumers often do not adequately check the 'permissions' section of the app to see if it is secure, leaving them exposed to malware or hackers that may access their data through vulnerabilities that were never patched before the app was released to market."



>> NEWS DESK<<



Oracle to acquire MICROS Systems
Oracle is expected to pay about $5 billion for MICROS, a company that provides technology for the hospitality and retail industries, such as point-of-sale, ecommerce and management software.