Become an Outlook Power User
Tap into some useful features to better manage your inbox.
Managing your email inbox just may be one of the most time consuming and least rewarding tasks of your day. Given the amount of spam that comes in each day, you may wonder how to simplify this process and get straight to the emails you really need to read (like this one - we hope). We now present five tips to help you get more out of Outlook.

1 - Search Folders
If you've ever missed an important email from your boss, your spouse, your best customer or a hot, new prospect, you'll want to set up some new Search Folders. First, select the Folders tab, then New Search Folder, then Mail from Specific People and follow the on-screen prompts. Of course, you can set up a Search Folder based on a number of other rules as well.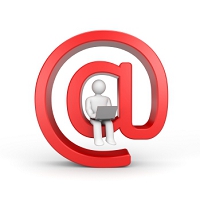 2 - Ignore a Thread
If you've ever gotten hooked into an email thread that has become very active but not very necessary, we have your solution. Don't bother hurting someone's feelings when you ask to be removed. Just have Outlook 'ignore' it for you. Highlight a message in the thread and from the Home tab hit Ignore. Outlook will delete that message, plus all future messages with the same subject line (and move previous messages to trash). Caution - this rule works by subject line - so ALL future messages with the same subject line will be deleted.

3 - Distribution List
If you often send emails to the same group of people, then you need a distribution list. However, to create one, you actually create a New Contact Group. Go to the Contacts area of Outlook and from the Home button select New Contact Group and name your list. Then select Add Members and select From Address Book. In the dialog box that appears, select the names you want to add and hit the bottom box called Members. Now you are all set.

4 - Auto Delete Trash when Closing Outlook
If your Outlook file tends to get large, you may opt to auto delete your Trash on exit. From the File tab, click Options, then Advanced and look for Outlook Start and Exit. Simply click the box that says Empty Deleted Items folder when exiting Outlook.
5 - Use a Template
If you email reports on a regular basis, save time with a template. Simply start a new email message and enter in as much information as you can that would appear in each email. Leave a space or marker where the data would change each time. At the File tab, click Save As and change the file type to Outlook Template (*.oft). Name the file and save. To use this template again, go to New Items, then More Items, then Choose Form and select your template from User Templates in the File System section.

Congratulations, you are now an advanced Outlook user. If you have additional questions on how to tweak Outlook or other systems within your network, eNet Systems is here to help. Simply give us a call at 281-403-9561 or email us.

Source: PCMag.com