Hurricane Season is Here. Is Your Computer Network Ready?
Prepare Now to Save Downtime Later
As you know, the Atlantic hurricane season officially began this June 1. The National Oceanic and Atmospheric Administration has predicted from nine to 15 named storms for this season. Forecasters estimate that four to eight of the storms will become hurricanes, and two to four of those could develop into major hurricanes with winds of 111 mph or higher. So look around your office right now at your current IT infrastructure and answer this question. Are you prepared to withstand the damage caused by a major storm?


Photo credit: AccuWeather
>>> Click here to find out how to prepare your IT network for hurricane season.


eNet Healthcare News Desk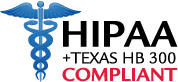 40% of Health Organizations Affected by WannaCry in Six Month Period
A recent report has found that the WannaCry ransomware is still quite successful in attacking healthcare and manufacturing organizations two years after it was unleashed. This is due in large part because these two industries are still using old, unpatched, legacy devices. WannaCry is a ransomware cryptoworm that first appeared on May 12, 2017, and infected 300,000 computers globally in just a few short days. Though a Microsoft patch was released and a kill switch was developed, the ransomware continues to spread. An alarming 60% of those in the manufacturing industry have experienced at least one WannaCry attack in the last six months. "A common misconception about WannaCry is that the patch issued by Microsoft stopped the ransomware and its associated exploit, EternalBlue, so they are no longer something we need to worry about," says an industry researcher. We know now, this is not the case. Please call us today at 281-403-9561 to discuss ransomware protection and be sure to visit our healthcare page.
Software Update
Where is My Music Going? Answers for iTunes Users

As Apple begins to replace iTunes with Apple Music, Apple Podcasts and Apple TV, you may be wondering, "Where is my music going?" After 18 years, Apple is breaking up the app that got too bloated in the company's opinion. Since the three apps will be available across all your devices, your music collection will too. You will still have access to every song you ever bought, ripped, uploaded or imported. You will simply find them in Apple Music when you upgrade from your current Mac OS version to Catalina (which should be released later this fall). iTunes in Windows will remain the same. Regardless of the platform, you are not required to sign up for the paid version of Apple Music.
Security Update
Both NSA and Microsoft Urge IT Administrators to Patch Windows for "BlueKeep" Flaw
In a rare occurrence, both the National Security Agency (NSA) and Microsoft are warning users about flaws in Windows' Remote Desktop Services that could be exploited by attackers in ways that make viruses especially dangerous. These vulnerabilities have been labeled BlueKeep.

"We strongly advise that all affected systems should be updated as soon as possible," Simon Pope, the director of incident response at the Microsoft Security Response Center (MSRC), wrote in a blog post. "We warned that the vulnerability is 'wormable,' and that future malware that exploits this vulnerability could propagate from vulnerable computer to vulnerable computer in a similar way as the WannaCry malware spread across the globe in 2017," Pope said.

If the fact that both the NSA and Microsoft are issuing alerts isn't enough to convince you that this is serious, consider the following. Microsoft has made the unprecedented decision to deliver patches not only to still-supported versions of Windows, including Windows 7, but even to the outdated Windows XP, which was retired more than five years ago.

We would like to add one small note to this subject. Say you happened to be reading this email at lunch and are now running back to the office to start downloading and applying this patch, consider the following. If you are a Managed IT Services client of ours, your computers have already been patched back in May when the update was released. If you are not a client of ours, either keep running or give us a call now at 281-403-9561.