Integrating Causes:


Toys, Technology and a Whole Bunch of Healthy Kids

It's important for an IT company to act reliably and promptly with system maintenance, whether it's integrating a new computer, securing your files, or making sure your business systems are running most efficiently, but what about the systems and networks that span beyond business and technology?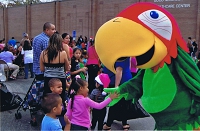 Recently, eNet Systems took part in helping GoodNeighbor Health Care Center, a nonprofit agency that helps those in need of healthcare, regardless of income. Covering a variety of fields, including women's care, dentistry, eyecare and pediatrics, GNC addresses the needs of the human system, 'optimizing' the health of the local community by reaching out to those who normally would not be able to seek care for their basic needs.

All of us at eNet Systems would like to thank GoodNeighbor Health Care for the vital service they provide and acknowledge how important their function is to the human network.

eNet Systems Welcomes New Team Member
In regards to the human network, eNet's own network has just grown with the addition of Johanna Rice as our administrative assistant. Some of you may have already noticed a new voice answering the phones. Originally from Northern California, Johanna moved to Texas at the start of the New Year and joined eNet's ever growing team in January. She is very glad to have the opportunity to work with a dedicated group of people, including those that work for eNet and the businesses they serve.

So Happy Networking - on all levels - from eNet Systems. Should you need assistance with new installations, backing up files or network optimization, our team is ready to provide the quality service that has become our trademark.

Have a networking need? Call us today at 281-403-9561 or email us now.