Hurricane Season Starts in June - Is Your Network Ready?

If you've run a business or organization for some time here in Houston and/or Southern Texas, you already know what season is coming. And no, we are not talking about summer; we're talking Hurricane Season. If you are by chance new to this region, now is the time to secure your IT network and infrastructure for potential damage from a strong and long hurricane season.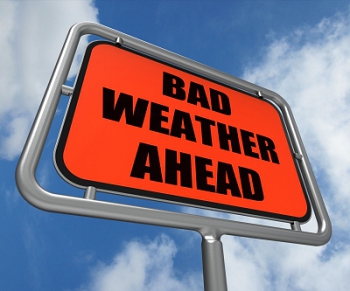 Assess & Prioritize
Before you plan to back up every byte of data in your business, do an assessment and determine exactly what data is mission critical and which applications absolutely must function at all times.

Protect your Data
Your company or organization should already have a backup strategy in place. If not, eNet Systems can help you. If your backups are local only, we strongly suggest that you use an offsite location and/or the cloud for a secondary backup.

Check your Power & Cooling
All your critical machines should be hooked up to a UPS unit which will keep your systems running until the main power is restored, a secondary power source is deployed or at least until you can safely power them down manually. Your cooling systems should also be hooked up to backup generators to avoid temperature spikes which can cause critical IT issues.

Appoint a Disaster Team
If you don't have an inside staff of IT professionals to form your Disaster Team, then team up with a trusted IT firm like eNet Systems.
Document Procedures & Test Again
Draft a disaster recovery plan and be sure it is well documented step-by-step. Make the time now to test your procedures in simulated emergency situations.
Find Telecommunication Alternatives
During previous hurricanes, many organizations lost access to reliable telecommunications for days. Consider establishing call forwarding or other options to avoid business downtime.

Form Close Relationships With Vendors
By forming and maintaining close relationships with IT vendors you can expedite disaster recovery.
Photo Credit: Stuart Miles via FreeDigitalPhotos.net
---

>>HOT NEW PRODUCTS <<

Add Battery Life to your Laptop with Zolt Laptop Charger Plus
This 3-inch, 3-ounce device may be one of the smallest items we have featured, but it sure is a powerful one. The Zolt Laptop Charger Plus is a laptop charger that might actually replace the bulky brick that shipped with your laptop. The Zolt delivers 70W of power and can twist 90-degrees while plugged in, which saves space on a surge protector or outlet. It has three USB ports: one for laptops, and two for smaller devices. The Zolt can charge all three simultaneously, automatically determining each device's energy requirements. Full review.


>>SECURITY UPDATE <<

Google Offers New Tool to Combat Phishing
Google has launched some new software for its Chrome Web browser that aims to combat phishing websites, a dangerous scam used to trick people into sharing their passwords. Password Alert, the new feature, will prompt Google account users when they enter their Google password into a fake Google sign-in page. It's estimated that 23% of people actually open phishing messages, and 11% of those actually click on attachments with malware, according to Verizon Communications Inc. Read more.