>>ENET NEWS DESK<<


Here's a tasty tidbit to nibble on during Thanksgiving break

You might not realize this, but the time between Thanksgiving and the end of the year is the busiest time of all for us here at eNet Systems. Why? Well, so many of our clients use this 'slower' time to plan, schedule and implement assessments and upgrades to their technology systems. So what are you doing to get ready for 2015? Email us now and we can share some tips.



---
>>ENET HEALTH NEWS DESK<<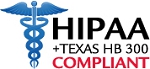 We continue to uncover security risk assessments myths.

Myth #7:
"Each year, I'll have to completely redo my security risk analysis."

False. It certainly wouldn't hurt to do so, but it's not required. Each year or when changes to your practice or electronic systems occur, review and update the prior analysis for changes in risks.

Call us at

281-403-9561 to schedule your assessment today.



---

>>SECURITY UPDATE <<

Apple now requires app-specific passwords for iCloud
Apple has offered two-step verification for iCloud accounts for a while now, but after a recent celebrity photo leak, more changes have been put in place. Apple now secures users iCloud accounts with both two-step verification and app-specific passwords.



>> NEWS DESK<<



Google signs long-term lease on Navy hangar in Silicon Valley


Google has signed a 60-year lease on a former Navy dirigible hangar, NASA said. The Internet company will pay $1.16 billion in rent for access to the 350,000 square foot structure. A Google subsidiary will use the hangar for research and development of technologies related to "space and aviation, assembly and testing in the areas of space exploration, aviation, rover/robotics and other emerging technologies," according to NASA.

AT&T drops plans for in-flight wireless


The carrier will not be bringing its 4G LTE service to the skies citing that in-flight connectivity is too risky of an investment. "We are focusing our capital on transformative investments, such as international and video," ATT said.