Unlock the Power of Windows 10 - Part One
If you've purchased a new computer or laptop recently, chances are good that you are running the Windows 10 operating system. You may have also upgraded from Windows 8 or 8.1. Either way, Windows 10 is a big jump from the Windows XP, Vista and 7 operating systems that so many of us have used for years. Read on to discover several tips and tricks that will help you unlock the power of Windows 10.


Click here to read our tips and tricks and start getting even more from Windows 10.


eNet Healthcare News Desk
Breach Reporting Not Keeping Pace with Cyber Attacks
Last year, 27 million patient records were stolen in 450 separate data breaches, according to a healthcare data report. Yet only nine organizations reported malware or ransomware breaches to the U.S. Department of Health and Human Services' (HHS) Office of Civil Rights. "OCR guidance is very clear on what the HIPAA Breach Notification Rule requires in the event of a ransomware attack," said Steven Gravely, a law firm partner. "I don't think that there is any ambiguity in the OCR guidance." Besides not reporting the breach, another issue is when organizations pay to get their data back (though both the FBI and HHS have warned against this). All this does is flag your organization to other hackers as one who will pay - so now you are at increased risk. Why take all these chances? Get protected and stay that way with eNet Systems. Call us today at 281-403-9561 to find out how or visit our healthcare page.
eNet News Desk
Happy Thanksgiving
We hope that all who read this email will have a wonderful, peaceful and safe Thanksgiving Day. And speaking of holidays ... for those small business or healthcare practice owners who are starting to see an uptick in employees scheduling holiday vacation time, we have a special message to you. Consider that employee downtime an opportunity to invest in your network for 2018. This time of year is actually our busiest of the entire year as companies like you take advantage of Section 179 of the 2017 tax code which provides significant tax relief for end-of-year hardware and software purchases. Claim up to $510,000 in qualifying expenses and put that money back into your business.
News Desk
Amazon Key - Taking Deliveries to the Next Level
Amazon's new delivery service called Amazon Key offers in-home delivery. To enable this service, Amazon and its customers use the company's new Cloud Cam security camera, a smart door lock and the new Key app to grant a delivery person temporary access to a residence. A delivery person can unlock the customer's front door using a phone, slide in a package, then lock the door again. The goal behind this service is to prevent packages from being stolen from the front porch or getting soaked in the rain. The question is ... are customers comfortable with this very personalized and intrusive delivery method? Does this cross a line and bring up more privacy and security issues than it's worth? The service is set launch in 37 US metro areas and is available only to Amazon Prime members. The new hardware starts at $250 and includes free installation. Stay tuned, we will update you on the use of this service.
Security Update
It's been recently reported that a devastating flaw in Wi-Fi's security protocol allows hackers to gain access to your data when you connect to Wi-Fi. Dubbed KRACK, the new vulnerability affects the Wi-Fi protocol itself—not specific products or implementations. What's more troubling is that it "works against all modern protected Wi-Fi networks," according to Mathy Vanhoef, the researcher who discovered it. So if your device uses Wi-Fi, it may be exposing your data via the KRACK flaw. Thankfully, major companies have moved quickly to patch the issue. Update your iOS to 11.1 and your macOS to 10.13.1. Windows users should apply the October 10 patch. Android users should apply the Android November security patch.
Hot New Products
Google Pixel 2 vs Google Pixel 2 XL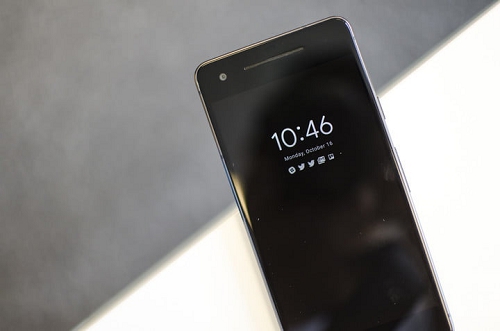 The main difference between the Google Pixel 2 and 2 XL is the size. The 2 XL also has slightly higher screen resolution and pixel density, but there are no other major technology features that separate them. While they don't have super-thin bezels now which is a common trend, they feature water resistance, squeezable sides and no headphone jack. See the full comparison here.