Think Your Business Is Too Small To Be Hacked?
If So, You're Probably a Cybercriminal's #1 Target.
In today's world of rampant cybercrime, hackers thrive on the blind faith of their targets. Despite high-profile security breaches being reported nearly every week, most small businesses assume they're safe from attack. The thought process seems to make sense — Fortune 500 corporations like J.P. Morgan, Sony, Tesco Bank, and Target have lost millions in data breaches, but my business is far too small to justify a hacker's attention — right? Wrong.

In fact, it's quite the opposite. According to StaySafeOnline.org, attacks on small businesses now account for more than 70% of data breaches, a number that appears to be on the rise. Close to half of all small businesses have been compromised. Ransomware attacks alone have skyrocketed a whopping 250% since 2016, and incidents of phishing have followed suit, as reported by Media Planet. It's hard to believe that this October is the 15th National Cybersecurity Awareness Month the Department of Homeland Security has conducted to raise awareness about the importance of cybersecurity.





Owners of small businesses might be excused for erroneously believing they are safe. After all, the hundreds of small businesses quietly and helplessly paying out thousands of dollars in digital ransoms every week are a lot less newsworthy than, say, the CIA's recent hacking by the mysterious Shadow Brokers, or the 143 million sensitive customer records stolen in the recent Equifax fiasco. This lack of news attention, however, should not lull anyone into a dangerous and false sense of security.

So why would teams of countless hackers zero in on your small business or practice when they could be targeting a giant like Google?
>>> Click here to learn why your small business is being targeted.


eNet Healthcare News Desk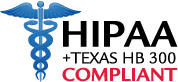 Is Your Remote Access System Your Network's Weak Link?
Cybercriminals attacking healthcare practices through remote access systems is the number one patient safety risk, according to the ECRI's annual Top 10 Health Technology Hazards for 2019. "Remote access systems are a common target because they are, by nature, publicly accessible. Intended to meet legitimate business needs, such as allowing off-site clinicians to access clinical data or vendors to troubleshoot systems installed at the facility, remote access systems can be exploited for illegitimate purposes," the report explained. How secure is your remote access system? Call us today at 281-403-9561 to find out or visit our healthcare page.
eNet News Desk
Section 179 Deduction Has Doubled!
Small businesses, healthcare practices and manufacturing firms alike — we have excellent news. As you may have heard from your tax consultant, the Section 179 deduction for tax year 2018 has nearly doubled over last year and is now an impressive $1 million. This deduction is good on new and used qualifying equipment, as well as off-the-shelf software. To take the deduction for this tax year, the equipment must be financed or purchased and put into service between January 1, 2018 and the end of the day on December 31, 2018. If you have never taken advantage of this deduction before, here are the basic facts. As outlined on section179.org, Section 179 of the IRS tax code allows businesses to deduct the full purchase price of qualifying equipment and/or software purchased or financed during the tax year. That means that if you buy (or lease) a piece of qualifying equipment, you can deduct the FULL PURCHASE PRICE from your gross income. Note: we are not tax professionals and this is not tax advice. Be sure to consult your own tax/accounting team. When you are ready to act, call us at 281-403-9561 or send us an email.
News Desk
Government HealthCare.gov Website Hacked
A government controlled computer system that interacts with the HealthCare.gov website was hacked earlier this month forcing its shutdown just days before sign-up season starts Nov. 1 for health care coverage under the Affordable Care Act. Sensitive personal data of some 75,000 people was compromised in this security breach, officials said Friday. The hacked system was shut down and technicians are working to restore it.
Hot New Products
Apple Watch Series 4
The latest Apple Watch - the Series 4 - offers a larger, crisp display that shows more with less bezel, super-fast speed and a louder speaker as reported on cnet.com. It also adds high and low heart-rate detection, fall detection with SOS trigger, and (eventually) FDA-cleared EKG for more detailed heart readings. On the down side, the pricing has increased and the battery life has not. The bottom line is that many industry experts believe that the Apple Watch Series 4 is the fastest, most connected and best overall smartwatch on the market today.
Security Update
Download the Data Apple and Others Have Collected on You
Did you ever wonder how much data Apple, Facebook and other website giants have collected on you? Now you can find out. Here are download instructions from Apple and Facebook. Download instructions for Apple data. Download instructions for Facebook data.