Nine Time-Saving Computer Tips

How often have you scanned an entire Word file, PDF or web page because you know you saw a reference to a certain word or idea somewhere in that 20 page document? Well, there's an easier way to find that word. So read on and we'll share the answer, plus several other tips that will save you lots of time each day.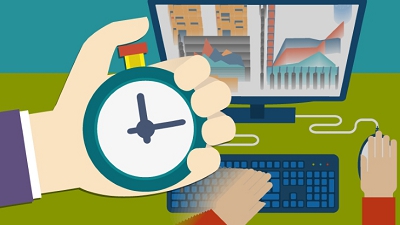 Use Ctrl + F to Search Documents: To find a specific word in a document, press Ctrl + F to bring up a dialog box. From here, you can enter the word in question and you will find the first instance of that word and perhaps even all instances of the word.

Use Spotlight Search, Menu Bar, and Taskbar to Start Up New Programs: Are there programs you use every single day? In Windows, find them in the Start Menu but before you click to open them, right click and select either Pin to Taskbar or Pin to Start Menu for faster access in the future. In OS X, hit Command + Spacebar for the Spotlight Search bar. Type in the first few letters of the program to find it quickly.
Use Space Bar to Scroll Faster: Do your fingers get tired scrolling through a very long web page? Use the space bar to scroll an entire screen at a time. Hold the space bar down to reach the end of the page quickly. Add shift plus space bar to go back up - either one screen at a time or immediately to the top.
Use Find / Replace: Did you ever finish a 30-page Word document only to find that you typed someone's name incorrectly and that name appears on nearly every page? Don't sift through each page; save time using Find/Replace. Just hit Ctrl + H and type in the current and the new spelling, select Replace All and you are done.
Use a Password Manager: With all the security breaches that have happened over the past couple years, having a good password strategy is essential. At a minimum, you should create very strong passwords for every site you visit. If these passwords get hard to track, you may opt for a password manager. Read a review of the top password managers here or ask eNet Systems for our opinion.
Use Right Click to Correct Spelling: You probably already know that the red squiggly underline in Word signifies a misspelled word. What you may not know is that many browsers such as Chrome and Firefox have begun to use this tool as well - so take advantage of it.
Use Search from Browser Bar: If you already have a browser open and need to perform a new search, don't bother opening a new tab and going to Google.com. Be faster by typing your topic directly into the search bar in the toolbar area of your browser.
Use Type-Ahead Suggestions: When typing in your search term, don't look at your keyboard but at what you are typing instead. The browser will offer you suggestions as you type. When you see your term, stop typing and use the down arrow key to reach it faster. The same idea works when entering a URL.
Use "Site:" to Target a Search to One Domain: Say you remember that a few months back, we published a good article on passwords. You could spend time reading each page of our website, or you could be smart and use this tip. Enter your search this way to pull results only from our domain: site:enetsystems.net passwords. Note, this currently works in IE and Chrome but not Firefox.
Image Source pcmag.com / Article Source

>>HOT NEW PRODUCTS<<

iPhone 6 and 6 Plus
Do people want a bigger iPhone? Record preorders for the two latest iPhones suggest that yes indeed they do. The 4.7-inch iPhone 6 and the 5.5-inch iPhone 6 Plus (Apple's first 'phablet') had people lining up by the thousands this past Friday when they went on sale. The iPhone 6 Plus boasts better battery life, a faster processor, sharper display, and image stabilization for video. Both versions take full advantage of the new iOS 8 which was reviewed here in previous issues. Read full review.

>>SOFTWARE LIBRARY<<

iCloud Drive Feature Warning for Mac users
We know you are eager to download iOS 8, but if you are a Mac user, read this first. As you might know, iCloud Drive is an integral part of the latest operating systems, iOS 8 and OS X Yosemite. The new service allows you to browse, edit, and share files from the cloud (similar to Dropbox and Google Drive) across your Apple devices. However, according to cNet, any images you upload from your iOS 8 enabled iPhone will not be accessible on your Mac until Yosemite is available.

>>HOW TO ...<<

Improve Battery Life on Windows 8.1 Laptop
Stay current with Windows Updates - Not only do these updates keep your system more secure, but some can improve your battery life as well.
Tweak power settings - open Control Panel then select Hardware and Sound and then Power options. For even more options, click on Change advanced power settings.
Dim the display - When running on battery, you should dim the display to below half at least. Access the settings from the Charms menu and select Settings.
Disable Bluetooth - even if you don't have any devices connected, Bluetooth is still a battery drain
Disconnect any dongles - just like Bluetooth, any USB connected device (such as a flash drive) can drain the battery. Disconnect them when not in use.