Is Your Computer Network Ready for the Peak of Hurricane Season?
... The Rain from Imelda is Here, But That's Not All.
As the rains from what was Tropical Storm Imelda fall, storms are still ramping up in the Atlantic basin. Yes, it's the peak of hurricane season. Hopefully, since the season officially began way back in June, you and your business are also at the peak of preparedness.
>>> Click here to find out if your business is as prepared as it needs to be.


eNet Healthcare News Desk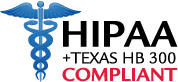 Healthcare Data Breaches of 2019
In 2018, more than 15 million patient records were compromised in 503 breaches. That number was three times more than in 2017. Sadly, with just half of 2019 reported, there have already been more than 32 million patient records breached. The biggest breach accounts for an astounding 25 million records and was suffered by billing services vendor American Medical Collection Agency. Reportedly, this hack took place for an alarming eight months before it was discovered. Ready to secure your network? Please call us today at 281-403-9561 to discuss this and be sure to visit our healthcare page.
eNet News Desk
Friendly Reminder on the Sunset of Windows 7
As we've mentioned in the past, Microsoft is ending extended support for Windows 7 and Windows Server 2008 effective January 14, 2020. After that day, businesses running these systems will be at a much higher risk of exposure to viruses, data loss, computer corruption and cyberattacks. Upgrade now. Don't wait until the end of the year when everyone will be buying and installing new computers and servers to get their tax deductions.
Security Update
Malicious Websites Exploiting iPhones
Recently, Google's Project Zero, a group of security experts that specializes in finding zero-day exploits, released information that malicious websites have been exploiting iPhones and harvesting data from thousands of users over the past several years. A zero-day exploit is a previously undisclosed computer-software vulnerability. The researchers claimed that by simply visiting certain websites, users' iPhones were infected with malware that would then access and even harvest private information such as contacts, GPS data, images and data from apps like Gmail, WhatsApp and iMessage. This private information could even be transferred to a remote server. Apple responded by saying the Google report 'created the false impression of mass exploitation.' The exploited vulnerabilities in question were patched by Apple with iOS 12.1.4. Whether you believe Google or Apple, download and apply the patch.