eNet is focused on Healthcare IT security.
We can help with HIPAA compliance and more.
As you may know, the new HIPAA Omnibus compliance rules are in effect. Here at eNet Systems, Inc., we're taking steps to help you achieve compliance and avoid fines and penalties.
eNet's Healthcare IT Action Steps:
Discuss — Learn about healthcare network security, patient data and HIPAA regulations
Assess — Schedule a Healthcare Risk Assessment by calling 281-403-9561
Remedy — Fix network security and reliability concerns
Monitor — Stay protected and compliant with Managed IT Services from eNet Systems
New: Ransomware Guidelines released by Department of HHS
Download the new Ransomware Guidelines recently released by the Department of Health and Human Services. These guidelines apply to all healthcare entities and business associates.


eNet Systems, Inc. is now a Certified Business Associate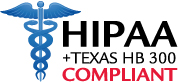 We have taken the steps necessary to become a Certified Business Associate so you can rest assured that:


We are compliant with all current HIPAA regulations applicable to us
We are committed to eliminating the risk of HIPAA non-compliance among our clients
We have expertise in HIPAA Privacy and Security regulations and have the knowledge to pass a rigorous certification exam and audit
We are also compliant with Texas House Bill 300
Don't Risk Fines and Penalties - Become HIPAA Compliant Now
Just because you didn't get a call from the Department of Health and Human Services to schedule a HIPAA audit doesn't mean you're off the hook. Audits and resulting fines and penalties can come for non-compliant practices. It is your responsibility to become compliant. The longer you wait, the more your fines may be. eNet Systems is here to help you through the entire process. Call today to get started - 281-403-9561.
eNet Systems Recommends a Risk Assessment to Achieve full HIPAA Compliance
We are committed to providing our clients with the most complete and up-to-date information on the new HIPAA rules. Armed with this information, eNet Systems is here to walk you through the entire process – from a risk assessment to making the necessary IT changes to achieve compliance. We can also sign up your Houston practice for our Managed IT Services to maintain HIPAA compliance. Read more.